Applications View
The Applications View provides a list of all defined Customer Applications, with controls for provisioning and modification.

The view can be customized by pinning statistics cards for up to three separate apps, as well as changing the columns shown in the table.

Authentication Token Management
From the Applications table, select a row and click the

button to edit an Application's Two Factor Authentication Token settings. The edit dialog shows the status information for the most recently issued token and allows changing settings for future tokens.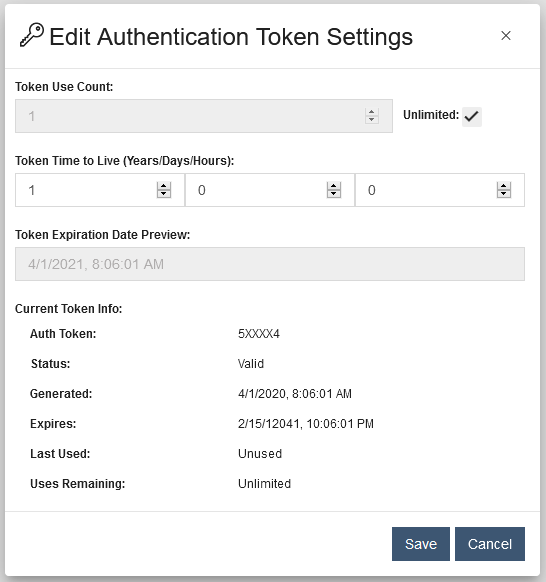 These can also be edited from the Application details view.

Field Descriptions
| Name | Description |
| --- | --- |
| Token Use Count | The number of times a token can be used for registration before it expires. The Unlimited option allows unlimited token use until it expires. |
| Token Time to Live | The amount of time the token is valid until it expires. A preview of what the expiration date will be is provided below that to help determine exactly when the token will expire. |
| Current Token Information | Describes the current outstanding token. If one has not been generated yet, then this section will be blank. |
| Auth Token | Displays a masked version of the current token. |
| Status | Indicates whether the token is still valid or not. |
| Generated | The timestamp of when the token was generated. |
| Expires | The timestamp of when the token will expire. |
| Last Used | The timestamp of when the token was last used. |
| Uses Remaining | The total number of uses remaining before the token expires, unlimited means there is no limit. |