Alerts
Alerts provide a targeted view into the network, highlighting conditions of interest or concern and reflecting Senet's operational assessment and response activity. For example, Base Station connectivity loss or high CPU utilization, as well as Application transaction threshold events.
Using the Alert Status selection control, the table can be filtered to explore past and regularly occurring events.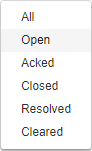 Alert Email Notifications
When an alert is raised, an email notification is sent to the configured Customer email address indicating that the alert failure has occurred. The list of recipients for this email list is configured and managed by the Network Operator.
Application Alerts
Application alerts provide insight into the health of north-bound traffic forwarded to an IoT provider. Frequent alerts may indicate that there is a communication issue present that requires attention.
| Alert | Description | Evaluation Period | Data Source | How Alert is Cleared |
| --- | --- | --- | --- | --- |
| Low Notification Count | Triggered when an application notifier has fewer notifications than the specified threshold. | Every 5 minutes | Application Stats | Auto Clearing |
| High Notification Error Count | Triggered when an application notifier has more errors than the specified threshold. | Every 5 minutes | Application Stats | Auto Clearing |
| High Notification Count | Triggered when an application notifier has more notifications than the specified threshold. | Every 5 minutes | Application Stats | Auto Clearing |
| High Dropped Notification Count | Triggered when an application notifier has more dropped notifications than the specified threshold. | Every 5 minutes | Application Stats | Auto Clearing |