Losant
Losant is an Enterprise IoT platform that provides a cloud software foundation to build and scale compelling IoT Applications. Losant has a unique, low-code approach to Application development and provides a toolset for developing dashboards to visualize data in multiple ways. Messages sent from the Senet platform will be forwarded in JSON format (See Default Data Fields). Losant supports HTTP-type connections called Webhooks.
Losant Application Templates
A variety of preconfigured Application Templates are available from a number of different entities. Senet has collaborated with Losant to provide an Application Template that delivers visualization and alerting for a Milesight AM107 Ambience Monitor which can be found here.
Platform Setup
To start taking advantage of Losant, a user of the platform will need to create at least one of each of the following:
And optionally:
Note
The Senet Application Template includes a Device Recipe, Custom Node, and Dashboard for the Milesight AM107.
Losant Platform Setup Steps
Navigate to the Losant platform
Create a new Application, either from a template or a new blank Application.
Navigate to the Webhook page and create a new Webhook. You can optionally choose to require basic authentication for requests against this Webhook.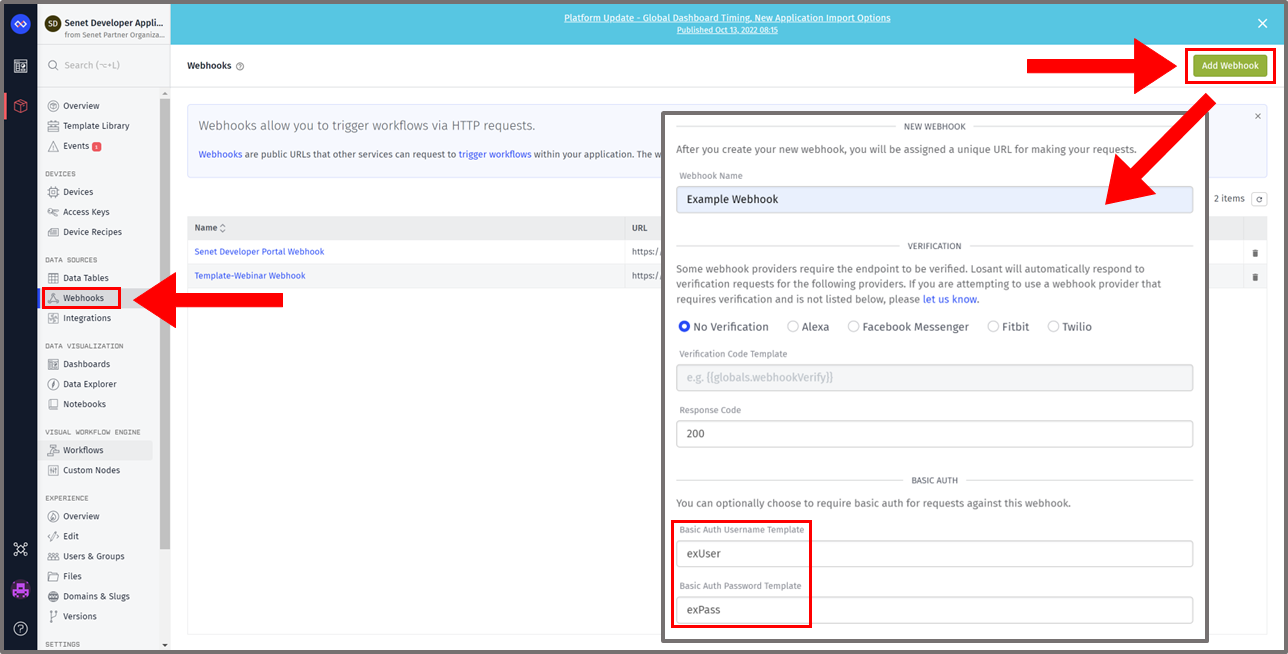 After you've created the Webhook, note the Webhook URL displayed in the Webhook table.
Notifier Setup in the Senet Portal
Return to the Senet Portal
Expand the Device settings menu in the top right corner of the Device tile (top arrow)
Open the Edit Device menu by clicking the gear icon (middle arrow)
Edit the target Device's Notification Target
Verify the Notification Target is enabled
Choose Losant from the drop down menu (bottom arrow)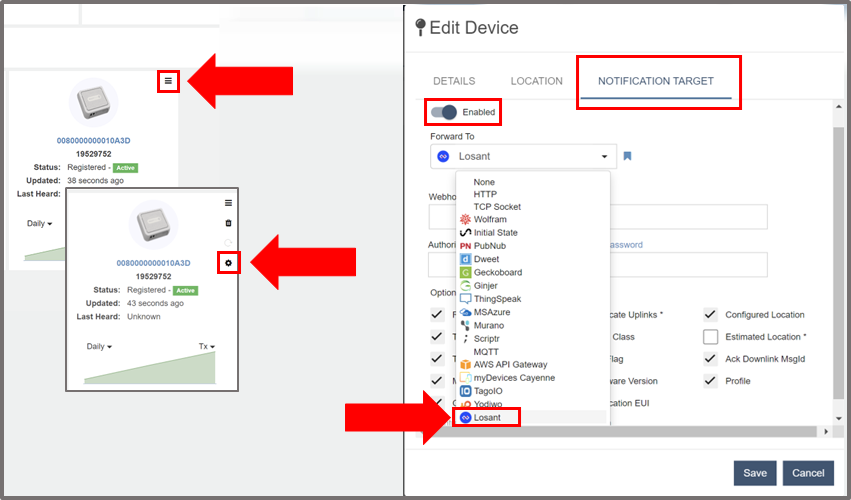 Specify the Losant Webhook URL as the Notification Target Webhook URL in the Senet Portal.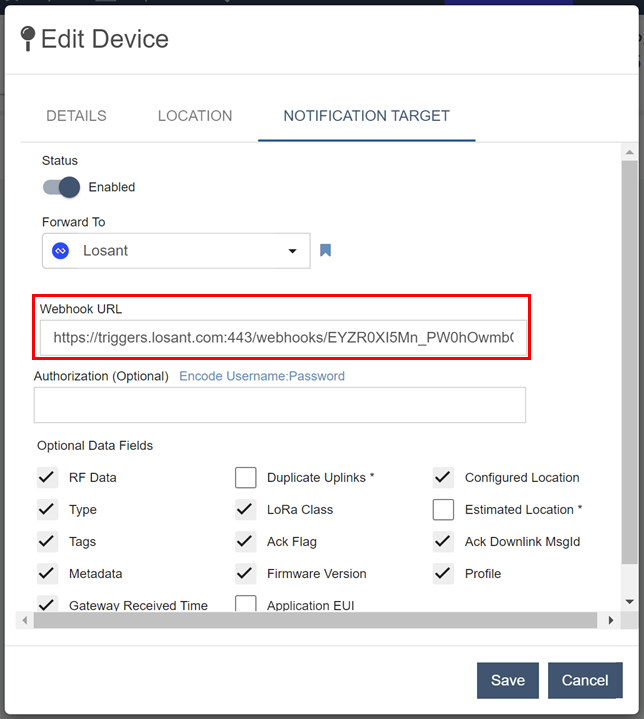 For Webhooks configured with optional basic authentication:
In the example below a username of exUser and a password of exPass are used
Convert the username and password to Base64 encoding using the provided Encode Username:Password link
Enter the username and password then press Ok to fill in the Authorization string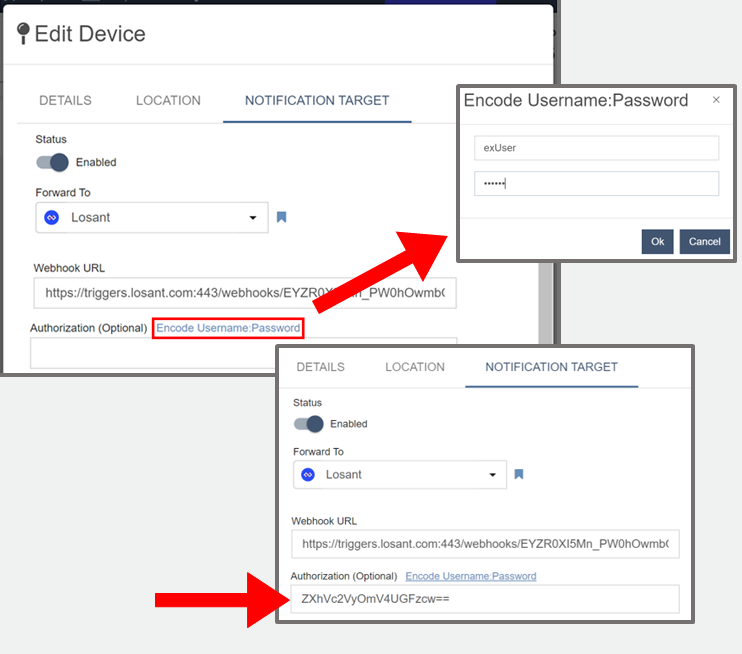 Getting Started with Losant
Creating a Workflow
Return to the Losant platform
Navigate to the Workflow page
If the workflow does not already exist or the Senet template will not be utilized, create a new Application-type Workflow using the Add Workflow button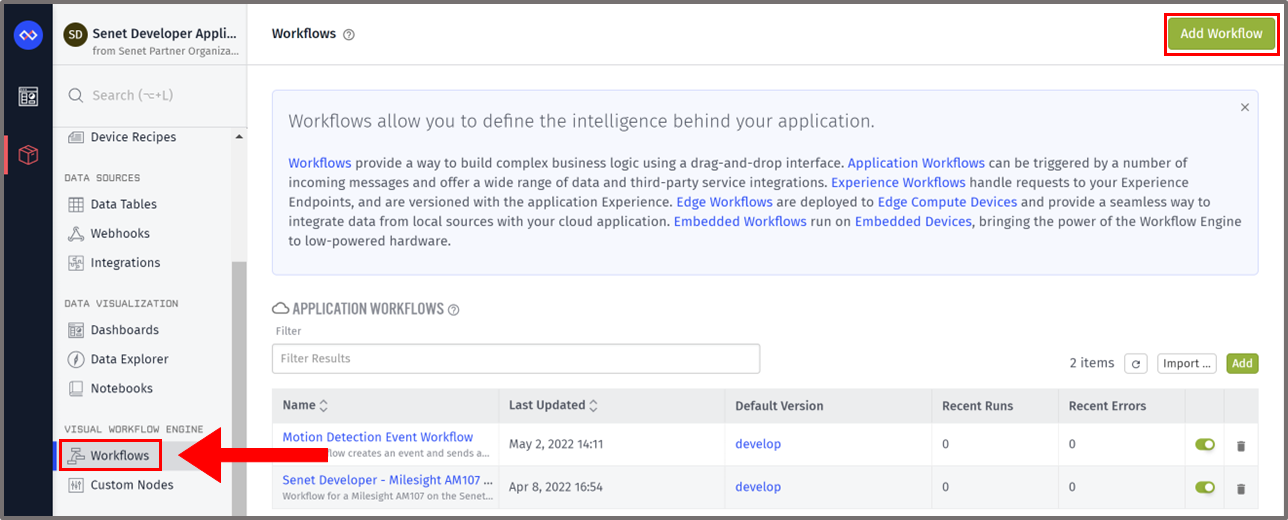 Enter the Workflow editor by clicking on the Workflow from the list of created workflows. In the example below the Senet Developer - Milesight AM107 template workflow will be shown
Once in the Workflow editor, add a Webhook-type node to the Workflow if one does not already exist. The Webhook node will act as the ingress into Losant
Note
The Senet Developer - Milesight AM107 template workflow includes a Webhook node titled AM107 Webhook
Click on the Webhook node to edit it. Select the corresponding Webhook (from section Losant Platform Setup Steps) under the Webhook Name dropdown menu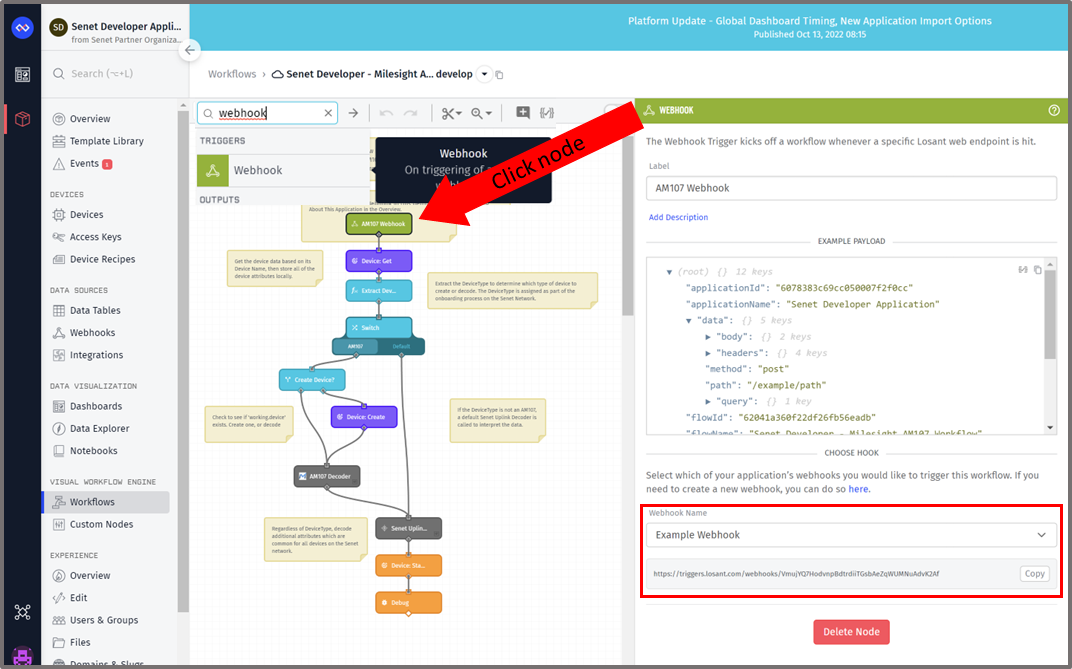 Continue exploring the Losant platform by watching Losant solutions architect Kevin Niemiller and Senet's CTO and COO, Dave Kjendal, walk through the Senet Application Template in a Deeper Dive Webinar replay: